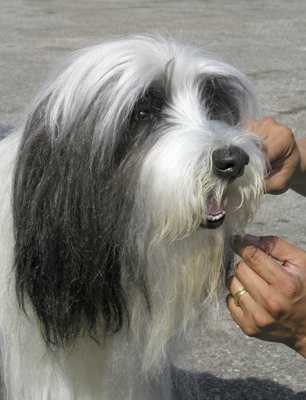 Here Mike Ornelaz is applying tan colored Fuller's Earth around the mouth of the stunt puppet with a little isopropyl alcohol. This was a very smart solution that Mike came up with to achieve that "tabacco-ey" color that Bearded Collies tend to get around their mouths from saliva. Mike's formula washed off very easily for scenes where SHAGGY had to appear clean again.
Email Paul Mejias at paul@paulmejias.com.

For inquiries regarding this site, write to Webmaster.

Site designed maintained by Albert Mejias and HeyYouKids.com.

The "PM" logo is a Trademark ™ of Paul Mejias.
All images and content Copyright © 1999-2017 Paul Mejias, all rights reserved
except where trademark or copyright is held by previous owner.