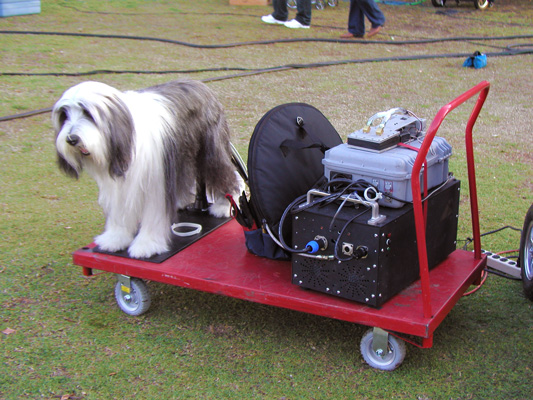 This was the typical way the "hero" was transported around set and at locations. The black box contained all the larger "Maxon" motors that controlled things like the neck and shoulders. In the round black bag we stored coiled fiber optic cable that connected the puppet to the Overdrive Control System engineered by Steve Rosenblum and his team. Rodrick Khachatoorian, the electronics specialist/puppeteer on the team worked closely with Steve on the control interface and performance programming for the puppet.
Email Paul Mejias at paul@paulmejias.com.

For inquiries regarding this site, write to Webmaster.

Site designed maintained by Albert Mejias and HeyYouKids.com.

The "PM" logo is a Trademark ™ of Paul Mejias.
All images and content Copyright © 1999-2017 Paul Mejias, all rights reserved
except where trademark or copyright is held by previous owner.