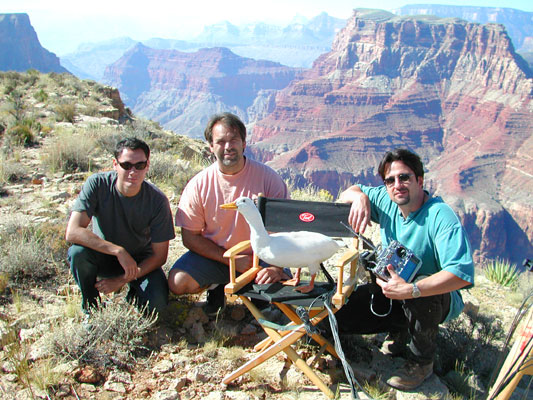 I've been the Animatronic Effects Supervisor on all but three of the AFLAC Insurance "Duck" spots for both the USA and Japan campaigns. Pictured are Jason Matthews: lead artist, Rich Haugen: mechanical supervisor, one of the duck puppets, and myself, while shooting on location at the Navajo Nation near Tuba City, Arizona in October of 2001.
Email Paul Mejias at paul@paulmejias.com.

For inquiries regarding this site, write to Webmaster.

Site designed maintained by Albert Mejias and HeyYouKids.com.

The "PM" logo is a Trademark ™ of Paul Mejias.
All images and content Copyright © 1999-2017 Paul Mejias, all rights reserved
except where trademark or copyright is held by previous owner.