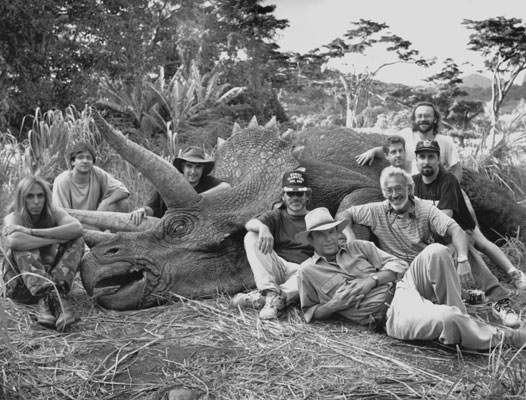 The crew took a moment to pose with the director while filming JURASSIC PARK in Kauai in September of 1992. Pictured are Joey Orosco who designed and was the chief sculptor on the Triceratops, Paul Mejias, Shannon Shea, Steven Spielberg, Sam Neil, Stan Winston, Dave Grasso, Al Sousa who was the supervising mechanical designer and Joe Reader.
Email Paul Mejias at paul@paulmejias.com.

For inquiries regarding this site, write to Webmaster.

Site designed maintained by Albert Mejias and HeyYouKids.com.

The "PM" logo is a Trademark ™ of Paul Mejias.
All images and content Copyright © 1999-2017 Paul Mejias, all rights reserved
except where trademark or copyright is held by previous owner.