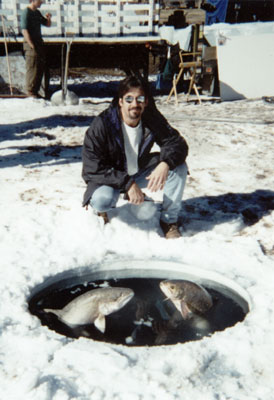 I supervised the construction of two talking fish puppets for a Dairy Management spot. This shot was taken after wrapping in Telluride, CO in December of 1998. The crew consisted of Rob Ramsdell who sculpted the second fish and tackled many of the art and technical assignments. John Dawe and Brian Nammany who mechanized the puppets and solved the problem of having them work underwater. Emery Brown who worked out the lip-sync for the characters and all the electronic chores and Trevor Hensley did additional paint work.
Email Paul Mejias at paul@paulmejias.com.

For inquiries regarding this site, write to Webmaster.

Site designed maintained by Albert Mejias and HeyYouKids.com.

The "PM" logo is a Trademark ™ of Paul Mejias.
All images and content Copyright © 1999-2017 Paul Mejias, all rights reserved
except where trademark or copyright is held by previous owner.