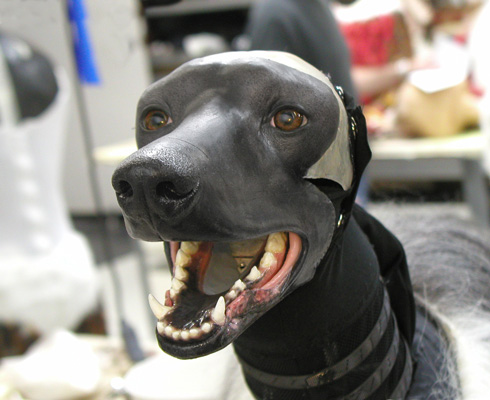 Jon Cherevka fabricated and painted the eyes to match Cole's eyes exactly. Jim Charmatz painted the lips and eye area to actually match the same spotted patterns Cole had under his fur on his face, while Chris Gallaher fabricated and painted the gums and teeth. This image was taken after a test glue down of the hero skin; note the tongue has not been installed yet.

See more images in THE SHAGGY DOG SCRAPBOOK section.
Email Paul Mejias at paul@paulmejias.com.

For inquiries regarding this site, write to Webmaster.

Site designed maintained by Albert Mejias and HeyYouKids.com.

The "PM" logo is a Trademark ™ of Paul Mejias.
All images and content Copyright © 1999-2017 Paul Mejias, all rights reserved
except where trademark or copyright is held by previous owner.