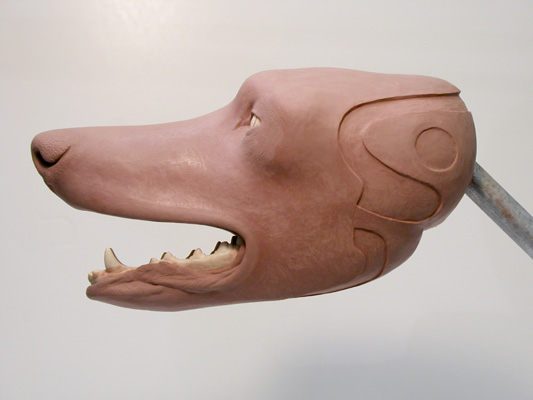 This is a side view of the same sculpture. The front teeth and canines are actual castings from Cole's real teeth. Mark Forbes and Ray Beal were such amazing trainers that they were able to keep Cole perfectly still and calm while I pulled upper and lower impressions. Later, I was able to pull a casting of Cole's nose; this was a first for me!

See more images in THE SHAGGY DOG SCRAPBOOK section.
Email Paul Mejias at paul@paulmejias.com.

For inquiries regarding this site, write to Webmaster.

Site designed maintained by Albert Mejias and HeyYouKids.com.

The "PM" logo is a Trademark ™ of Paul Mejias.
All images and content Copyright © 1999-2017 Paul Mejias, all rights reserved
except where trademark or copyright is held by previous owner.