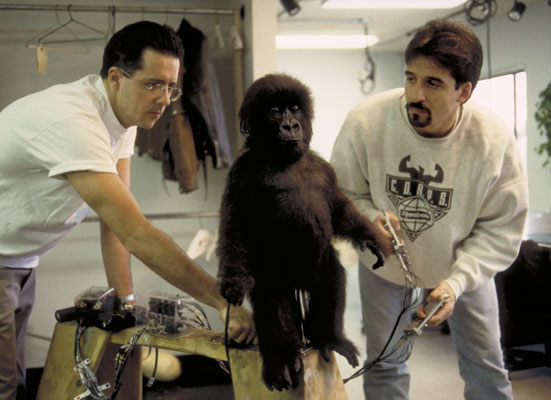 This photo was taken in January of 1998 just prior flying to Jamaica for the location portion of the INSTINCT shoot. Among other assignments on the film I co-supervised the completion of the baby gorilla puppet. In this image, mechanical supervisor Kirk Skodis and I are checking all the functions before packing up for location. Also involved on this character were artists Mark Jurinko, Jason Matthews and Joey Orosco.
Email Paul Mejias at paul@paulmejias.com.

For inquiries regarding this site, write to Webmaster.

Site designed maintained by Albert Mejias and HeyYouKids.com.

The "PM" logo is a Trademark ™ of Paul Mejias.
All images and content Copyright © 1999-2017 Paul Mejias, all rights reserved
except where trademark or copyright is held by previous owner.